TDI Guestbook postings:
Al (the TD's pal)
~Part I~

(photo credit: Rainer Rutka)

TDI Homepage Guestbook // Sunday // 10/31/99:
Dear Tangerine Dream, Yesterday I had the unique pleasure of listening to the SONY
Topping Off Ceremony CD single recorded in Berlin, Germany (Potsdamer Platz), on
September 2, 1998. This is a truly wonderful and beautiful classical "Tangerine Dream"
composition. Including the remixing of TD of old with sounds that are so fresh and
sweeping with there majestic flow and ebb that put into a phrase simply take your breath
away. Loved every precious moment of it! (btw, the drums were also terrific). Please, I
ask you to make this available (including the video), sometime in the very near future and
given a wider release for all your countless number of devoted fans. All we ask is that you
lead the way and we shall all follow your dream...
Best Regards Always, -- Al (Berkeley, CA / USA).
(lifelong TD diehard)
PS: Michael & Andy, I've always been sort of partial to the "Jefferson Airplane" myself.
Having seen them play live back in the late sixties at the Avalon Ballroom & old Fillmore
West (San Francisco). Think I'll go ask Alice when she's ten feet tall... Happy Halloween
to all!
NP: "SONY Topping Off Ceremony ~Tangerine Dream~ live."
Personal Note: Thanks Rainer!!! (He sent it to me as a gift
before we were all able to acquire the "Millennium Booster.").
***************************************************************************
(photo credit: Rainer Rutka)
***************************************************************************
TDI Homepage Guestbook // Thursday // 11/25/99:
Hi gang! Gosh, what a interesting past couple of months is has been for all of us here
on the "PAGE." LOL Sometimes I think that we tend to forget the simple things in life --
like the countless numbers of TD diehards & fans sprinkled so generously like magic
wands everywhere upon the planet. Every possible nook and cranny covered so fully --
well beyond all our wildest dreams. The many devoted Tadream newsgroups where we
can all interact to discuss each and every possible nuance of our favorite band. The many
ultimate TD diehards that have taken the time to provide us with fantastic websites twenty-
four hours a day with all the information we would ever want to know about TD. Even the
mIRC chat program has provided a meaningful outlet where fans can just get together and
simultaneously play the same piece of TD music around the world to listen, to comment
and to just have a lot of fun! Clearly, the special communication that we all enjoy in
sharing, trading, chatting and just getting to know one another is celebration enough.
I had to specially design my e-mail folder to handle the hundreds of TD contacts worldwide
since entering the fast expanding world of the Internet. Just keeping up with all of it has
proven to be a challenge that has fulfilled me with great personal joy. Each and every fan
is so rich in TD specialties that require always that personal human touch with their unique
tangerine mix of TD dreams... Even our overworked Webmaster probably has a very nice
family. Perhaps a son or daughter to love and to cherish. I for one will make sure that his
job is made just a bit easier here from now on.
Today is "Thanksgiving" in America. A day where we gave thanks to others within our
private thoughts. With this concept firmly set into mind and motion. I just wanted to give a
simple "thanks" to the Froese family for making our lives a little bit richer in musical spirit.
They are, after all, simply the best!
-- Al (Berkeley, CA / USA).
(lifelong TD diehard).
NP: You all know the bottom line...
Just about anything so long as it's:
~TANGERINE DREAM!~
***************************************************************************
"Christmas" by Norman Rockwell
***************************************************************************
TDI Homepage Guestbook // Friday // 12/24/99:
'Twas the night before Christmas, when all through the house; Not a creature was stirring,
not even a mouse; The stockings were hung by the chimney with care; In hopes that St.
Nicholas soon would be there... The very next morning with TD blasting merrily away;
With the wonderful electronic music ever so held at bay; On every house circuit lovingly
baking a loaf of bakers pound; Filling each & every room with this wondrous and beautiful
sound; Even the solid red masonry bricks of the blazing hot chimney flakes; Each beginning
to shed their magic TD dust ready to rattle and shake; As olde St. Nick was so very kind and
proud on this joyful Xmas day; Now we know that each plump filled stocking would say all
but nay; Captivatingly capping a cornucopia of true TD gems & treasures; Eyes bursting
wide open and cheeks beaming with such pleasures; Why, it can only be spoken by its name
the Millennium Booster; With its dozen reindeer, hammer and sleigh all ready to shooster;
For soooo very many it was a pure joy to just unwrap and weigh; To all that made really
"darn" sure, that it would solely be played...
'tis is truly the magical TD Xmas season. Let is snow, let it snow, let is snow... So, let's
bring on the TD Millennium in grand style. Whether your celebrating it in 2000 or 2001
or both and for some -- all bloody year! -lol-). One thing we all can agree on and know for
sure: "TD is the BEST!" A very "Merry Christmas" to absolutely everybody! And, a "Happy
New Year!!" With best wishes to the ~Froese family~ for the seasonal holidays!
-- Al (the TD's pal), Berzerkeley, CA / USA
PS: With my apologizes to: 'Twas the Night Before Christmas or Account of a Visit from
St. Nicholas by Clement Clarke Moore (1779-1863). I'm still working on Ode to TD (#4)... :-)
NP: Two words -- one group ~TANGERINE DREAM!~
***************************************************************************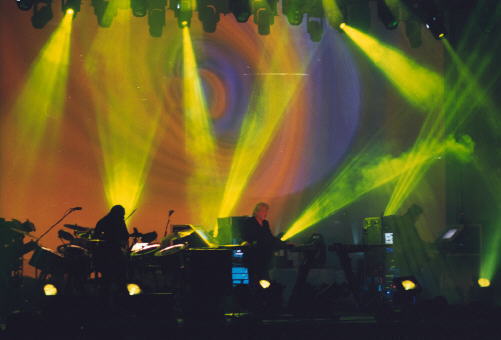 TD live on stage (KlangArt 1999)
***************************************************************************
TDI Homepage Guestbook // Friday // 12/31/99:
Well, they say that all good must end... And, I say: Let's bring on the new ~ Tangerine
Dream Millenium! ~ My very best to everyone at TDI, all of my TD diehard friends and,
of course, the band. "They are, after all, simply the BEST!" May the dream live on, and
on & on... We'll all be listening!!
-- Al (the TD's pal), Berzerkeley, CA / USA
***************************************************************************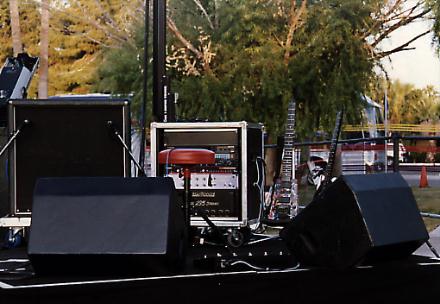 View of Zlatko's stage rack in
Scottsdale, Arziona (1992)
(photo credit: Monique Froese)
***************************************************************************
TDI Homepage Guestbook // Saturday // 01/15/00:
Well, this page of post is truly magnificent! I'd say the range of emotion is covered well
beyond the scope of normal TD senses. So many since the strike of the clock bringing
in 2000 have truly outdone themselves in expressing heartfelt sentiments. What's so
interesting is how many view the "PAGE!" We all do it and look forward to it. Heck,
I even have my Explorer all set to open right smack dab on page one of the guestbook
when I fire-up the computer. Only later do I check the e-mail and see what's cooking
in the many Tadream Onelist newsgroups. The real beauty of coming here first is to see
how each of us was and is affected by a group we dearly know and love. All of us in our
own special way are weavers and seekers of dreams. And, not just any dreams either, as
they are fantastic ~Tangerine Dreams~ from the best band in the whole world!
One of my great joys is listening to the unpublished TD classics that we diehards call the
"live" shows. So much unpublished material unknown to so many... Excepting maybe the
ones that will always collect, listen, share and communicate with one another. As, we all
know that TD diehards NEVER stop! ~LOL~ Anyway, getting back to the "live" concerts.
I'll often listen to a TD show of lessor sound quality just to hear the unique audience
reaction with the many "Oohs & Awes" sprinkled like snowflakes ever so delicately drifting
into all the right places. Then, to hear the individual audience members in some cases freak
out and yell uncontrollably during the super quiet moments of the piano solo (generally at
the end of the first set for the older concerts). The entire audience reacts swiftly and every-
one realizes that no harm was done. This is not any band that's sharing part of a legend.
We all know perfectly well that TD is the legend! There will never be another one quite
like them and I'm glad we have all been blessed to be born and witness the millenium
space & time frame we simply know as TD...
I've said it once, I've said it twice, I'll say it till my very last breath:
"They are, after all, simply the BEST!"
-- Al (Berkeley, CA / USA)
PS: To all my TD friends out there: Hello! The list would be too long
if I named names and also our loyal and trustworthy Webmaster might
complain. You all know who you are. :-) Besides, I'm not even exactly
sure what L@y right below me is saying. Somehow I get the distinct
feeling that I'm echoing his mighty words! We clearly speak and feel
TD as the same language all over the world!
NP: Sommerville Theater (September 6, 1988) Boston, Massachusetts USA.
The opening of the second set an untitled piece that was never published
officially. To give it life I just call it: "Ton of Bricks" as it blows my mind
each and every time I play it! BTW, who's counting? ~ROFL~
***************************************************************************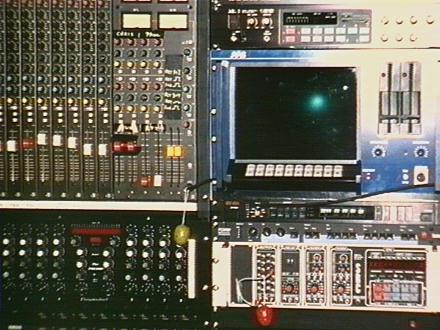 Just a tad of TD electronics (1986 tour gear)
(photo credit: Monique Froese)
***************************************************************************
TDI Homepage Guestbook // Wednesday // 02/16/00:
Hi Gang! A little TDI birdie has released the forthcoming news that not only is "Soundmill
Navigator" scheduled for release in March 2000, but it's also not *tangentized* That's the
best TD news that I've heard in "Ages!" ;-)
Thanks Edgar & Jerome...
Best Always, -- Al (the TD's pal), Berkeley, CA / USA
PS: Great stories below -- keep them coming!
***************************************************************************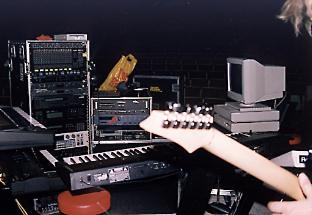 View of Jerome´s stage rack in Cleveland,
Ohio (1992) during the soundcheck
(photo credit: Monique Froese)
***************************************************************************
TDI Homepage Guestbook // Monday // 04/17/00:
Hi gang!
Well, I guess it's like this... You all know that I along with thousands of others are "TD
diehards" pure, faithful and true. I'm fully aware that we all have are likes and dislikes,
etc. For me, TD is totally exceptional without a question of a doubt. To this day I still
remember sitting in the sweet spot (audiophile term for the best spot between two
speakers), listening to the soundtrack of "Risky Business" and saying to myself, "I've got
to get everything these guys ever did!" Now, some fourteen later -- I darn near nearly have...
To be so honored to know the unpublished material like the back of my hands... For me
this unique experience knows no peers. It's like looking directly at an original painting by
Picasso, Rembrandt or Dali. Each and every brush stroke is special and forevermore we
hope to see it exactly like that -- always. To think of a Mozart symphony rewritten for
modern times, or the Beethoven masterpieces reconstructed, lastly Schubert "Unfinished"
-- finished... Well, that's how it is (IMHO) with me. The TD concerts of the past are very
special and I hold them dear to my heart.
May I humbly suggest that in the "TDI classics editions" series that TD consider bringing
out and releasing two CD copies... One as the original (from the Tascam 8- tracks), and
the other "tangentizied" in any form whatsoever that Edgar or Jerome would care to mix...
I myself was very fortunate in finding the inner circle of the professional recording
archivist many years ago (I'm a longtime audiophile). In this pro-audio world the source
(who mastered the show), and what generation number it is (status on the food chain) are
both generally known... What it amounts too for me personally is that I cannot listen to
either "Sohoman" or "Soundmill Navigator." I simply prefer it in it's original state... Of
course, as a diehard TD collector, I purchased them both naturally. It's just that I don't
listen to either of them. It is totally my choice and I'm happy that many fans and diehards
do like these remixed versions. But, in all fairness to other TD diehards like myself...
We simply can't bear to listen to them...
I've said it many time before and it goes like this:
"They are, after all, simply the best!"
TD is not part of the legend -- TD is the legend!
'nuff said.
My Best Always, -- Al (the TD's pal) Berkeley, CA / USA
PS: (1) Randy -- Keep those TD inventive wheels a churning! (2) Joe -- Saw your post of
04/05/00 (TD live with orchestra) please note my new temp e-mail address (SNAFU with
my bloody computer). (3) Bruno -- Very sensible logical approach and very well spoken.
(4) Rubycon -- I'm always here to help anyone who but asks... -- Thxs! (5) Jeannine -- I'll
send you a list of the Tadream groups and other useful TD information. (6) Marlene -- I
tried to e-mail you the short list (~lol~) of TD titles, but there was a problem with your e-
mail address as given. (7) Warren -- Gary is correct the TD lineup for the 1986 European
tour was Edgar Froese, Christoph Franke and Paul Haslinger. Finally TD Webmaster -- I
do hope that you feel this was an exercise in constructive criticism as my personal opinion
and my ~opinion only~ which I choose to share... ;-)
NP: You all know the bottom line...
Just about anything so long as it's
~TANGERINE DREAM~
***************************************************************************
Virgin Records press release & photos
***************************************************************************
TDI Homepage Guestbook // Wednesday // 04/19/00:
Hi gang (again)!
Well, let us agree to not disagree quite so much... What I'd like to say is this: I will follow
~Tangerine Dream~ do the day I die (knock on wood - not a Philip Glass joke). IMHO
Edgar is a musical genius and whether or not he decides to retire is totally his decision
and his decision only. I can't think of anyone better than Jerome to vanguard the way into
the 21st Century... I'm anxiously awaiting his "Dream Mixes III" and do hope the early
promise of a rare pressing on vinyl a big *audiophile* plus.
For me personally, the *live TD concerts* are very special... Each one (prior to the 1980's)
is so unique that they are exactly like originals of Picasso, Rembrandt and Dali. It many
instances they played these *untitled* compositions once and once only ("Soundmill
Navigator" the concert from Berlin, Germany, Philharmonic Hall, 06/27/76 and the Berlin
ICC 11/15/82 both fall into this special category). Even the variations (say Composition #1
from Oxford, UK, 11/08/76), are special as the variations upon the variations were played
so rarely... I consider 1975 - 1977 (early tour) to be the "Golden Years" of Tangerine
Dream without any doubt. Their improvisation was at its zenith without question (IMHO
for anyone that needs it). ;-)
This is not any ordinary band -- rather in my mind it's the greatest band there ever was or
possibly will ever be... They have my total respect today, tomorrow and in the foreseeable
future... I've often thought of trying to make the calculation of determining just how much
of TD's total output has "never" been published. My rough educated guess tells me it may
be as high as 40% of their total output... Perhaps some of the longtime TD diehard
collectors (Klaus, Rainer & Gerry, etc), could shed some light on this... In any event
-- this is a band with an "Epic" output of total musical compositions. There is no second
place -- only first -- and that is Tangerine Dream's pure and simple e-music legacy.
True, I sometimes do *love & hate* them simultaneously... Even when I do criticize try to
do it with wit, flavor and charm... Case in point when I wrote in Tadream Digest #234 in a
response to "Sohoman" (Re: Re: Rubycon (no D: Studio!) / Silver Scale), on 10/11/99 the
following (excerpt):
"...Speaking of the Edgar Froese and the vaults... Yes, every so often I simply relish being
totally absorbed and watching the movie 'Thief' (1983), directed by Michael Mann of
'The Keep' and 'Streethawk' TV series fame. We'll decidedly give EF plenty of room
here... However, I and many other TD diehards can only wait sooo long. My background
is that of a professional organizer. So, if someday some of you get private e-mails from
me which include a 'master plan' requiring your immediate updated passports and travel
plans to London... LOL"
PS: Joe and EF -- I'm just kidding! All in the true sprit of TD fun and games. :-)
PPS: (Private Joke) To Bruce: "Bring out the hounds, the TD game's afoot!"
NP: OST "Thief" the one & only track "Diamond Diary" by TD.
Well, I'm sure that you all get the idea...
I only *kid* about the possibility cause I *love* this group soooo much.
My TD Best Always, -- Al (the TD's pal), Berzerkeley, CA / USA
PS: The only reason I didn't mention "J.S. Bach" in my
guestbook post of 04/17/00 is that we all know *Bach*
is *perfect!* ~lol~
***************************************************************************
Johann Sebastian Bach (1685 - 1750)
***************************************************************************
TDI Homepage Guestbook // Wednesday // 04/19/00:
Hi gang!
One last... (then I rest my case). It echoes Gary's last statement below.
I wrote this many years ago and wanted to share it with everyone:
I made a bold statement on the KALX (90.7 FM) special TD radio show on 10/20/94.
in reference to what it means to me to be a diehard. During the show, DJ Minor-Minor
asked me this thought provoking question and I responded something like this:
"It was from Bob that I learned what it meant to be a TD diehard. That's is the
music, and only the music which truly matters. And... to seek it out in whatever
form one can and must -- just to hear it."
That almost six years ago and I still firmly believe it to this very day. For me, the
music is enough... Hope that same passionate feeling is shared by many of you...
OK -- I'm going back into TD lurk mode.
My TD Best Always, -- Al (the TD's pal), Berzerkeley, CA / USA
PS: When one writes passionately, the logical mind
sometimes falls by the wayside. Of course, Oxford,
11/08/76 should be *Nottingham, UK* (I'd just taped
Oxford, UK, 10/15/81 for a TD pal in Germany). ;-)
PPS: TDI Office: Just ignore the post comment re:
Marlene... I was having a bad hair day (Jerome and
I *do* have something in common). ~lol~ I know the
German/English translation sometimes can be easily
misconstrued... :-)
***************************************************************************
Jerome (Wiltern Theater 1992)
(photo credit: Monique Froese)
***************************************************************************
TDI Homepage Guestbook // Saturday // 04/29/00:
Hi gang!
I'm just slipping out of TD lurk mode for one moment... ~lol~ And, I was just thinking
about the latest references to J. S. Bach recently (mine and others). Well, with that firmly
in mind I played "Mandala" for the umpteenth time (thanks Jerome for sharing it with us
on the "Electro Beats" radio show on 02/01/98). I'm here to tell you all that *Bach* is
alive and well! ~lol~ This would be a great addition to the upcoming "Star Trooper"
(TD's ~classical~ edge), or "Twilight Folder" (rare and unreleased tracks 1983-1997).
All we can do is hope... ;-)
Best Always, -- Al (the TD's pal), Berzerkeley, CA / USA
***************************************************************************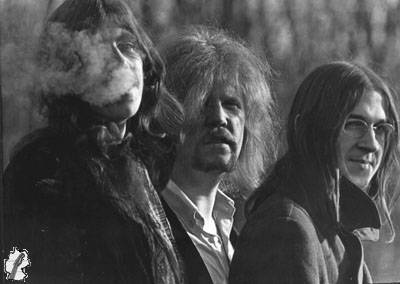 (photo credit: Sammlung Wolfgang Pokall)
***************************************************************************
TDI Homepage Guestbook // Friday // 05/26/00:
Hehehe...
Well, if only I had a TD genie in the bottle! What I do know is that I wrote on September
30, '99 (presently on page 54 of this guestbook), and wished for the "SONY Topping
Off Ceremony" (recorded live in Berlin at the Potsdamer Platz on September 2, '98).
Not *only* did TD include this hard to get basically unreleased work (only 300 made
and distributed to the music industry moguls), but also a signed poster of "Mars Polaris!"
For those of us lucky enough to have the cash available (or to scrounge it up!) for the
Christmas holiday "Millennium Booster." BTW: my handle on Ebay is: Marspolaris!
Go figure... ;-)
Then, just a short time ago (on page 8, as Colin and I were making references to JSB), I
wished for the fabulous "Mandala" that Jerome generously released to us on the Electro
Beats show of February 1, '98 to appear on either "Star Trooper" (TD's ~classical~ edge),
or "Twilight Folder" (rare and unreleased tracks 1983 - 1997). Well, we now know the
playlists (thanks TDI!) for the upcoming CD of "Antique Dreams." And, there is still a
chance that the incredible "Mandala" will make it to one of the two CDs previously
mentioned above... Let me *know* what you *all* want and I'll make another wish.
TD *dreams* do come *true* after all... ~lol~
My TD Best Always, Al (the TD's pal), Berzerkeley, CA / USA
PS: Please note my new temp e-mail address
(a bloody "nightmare" with the computer!). ~lol~
NP: By this time (ROFL) you all know the bottom line...
Repeat after me: Just about anything so long as it's:
~TANGERINE DREAM~
_____________________________________________________________________
Sony Topping Off Ceremony
Potsdamer Platz in Berlin, Germany
(September, 2, 1998)
(photo credits: Jerome Froese)

~Next Guestbook~
(Part II)
~Next Main Entry~
(Odes to TD)
~Previous Guestbook~
(main index links)
~Previous Main Entry~
(The Marspolaris story)

~Return to top~
~Return to Al's main weblinks~
(on the home page)
~View Al's TD Guestbook~
~Sign Al's TD Guestbook~
~Back to the Yahoo TD webring~

Quick -- some TD diehard please hand me
a really badly recorded TD ~live~ fan tape...
Otherwise -- I'm gonna shread & retape
this bloody GoStats counter above... ~lol~
See
Tech Updates
for reasons why... :-(